Arts have power to appeal the bases of human beings beyond the borders, languages, or the walls of human races and nationalities.
We held an out-door festival named "Great Music Meeting"(dai onraku shue) at Koyasan in 2007. Many people came and applaused.
In 2011 we up-graded to "Koyasan Next-1000-Year Festival" as a part of volunteer activities produced by 'Bodhi-Tree'.
We're aiming for a festival that all participants enjoy from their bottoms of heart, good for the people in the world and everybody can be happy.
The donation we received in 2011 was delivered to Fukushima as an aid to the victims of the East Japan Great Earthquake. Also, delivered was to a Wakayama recovery aid from the typhoon 12 in 2012. We truely thank you for your participation and warm hearts.
In 2015 we donate to the victims of Nepal Great Earthquake.
Koyasan is a 1200-year old buddhism city registered as a World Heritage in 2004. Countless historical heritages and treasures in the mountains have been descended to today as the spiritual and sacred worshipping place.
This year, Koyasan 1200th anniversary year we are holding Koyasan Next-1000-Year Festival to create another 1000 years.
We respect the culture and tradition brought up by Kobo Daishi (Japanese Great Master of Esoteric Buddhism) and his thoughts. We also wish to commence a new 1000-year culture.
We sincerely ask your warm support and participation.
Thanks letter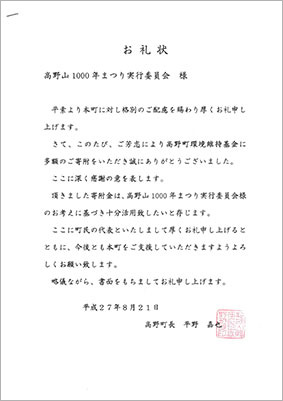 ▲Thanks letter from Koyasan council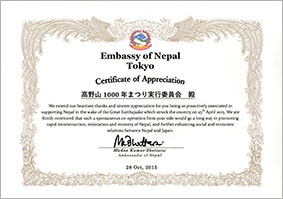 ▲Donation for Nepal disaster in 2015