Place: Koyasan Recreation Center, Tenjikuyama Koen Park(Shinrin Koen Park)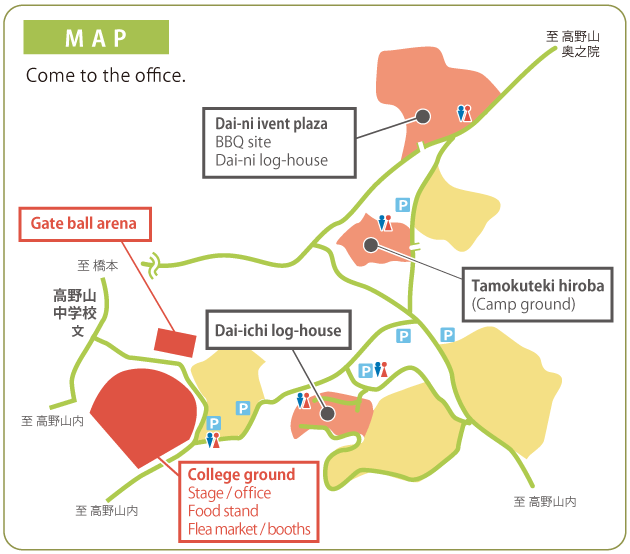 【Gate Ball Arena】

In the case of rains, Gate Ball Arena becomes main place.

Ground is covered by Artificial turf.
Please take care of the turf.

【College Ground】
Don't damage ground. Clear up after using.

Usage of the stage need a reservation.
See the blog "Koyasan 1000-Year Festival" for the equipment gear we have. Anything else bring your own equipment.
http://blog.livedoor.jp/jishoshizuka-koyasanmusicfestival/archives/4521091.html

All participants can show your performances freely or open your own shops.All profit you make is yours.

・ Flea market shops
・ Sales of used clothes or books
・ Open microphone performances
・ Exibition of arts and sales
・ Street artists entertain public
・ Cafe
・ Lectures and workshops
・ Open bars(must have limited time liquer licenses)
・ Street shops
・ Tea room with tea ceremony
・ Performing art craft and sales
・ Haunted house
・ Live events
・ Mendicant
・ Dance performances
・ Comedy performances and so on


Welcome creative artists!

Enjoy performing your daily training.
No big sounds after 9:00pm through morning considering neighboring residents. Fill out an application form for setting up of performances, flee market shops, workshops, booths, and street shops.

Email : shizuka_akio@yahoo.co.jp
【BBQ plaza(dai-ni ivent plaza)】
Clean up after using.



BBQ site




Kitchen




Toilet , Shower rooms


Dai-ni Log-house for stuff
( 2 rooms, 4 bulk beds)
【Tamokuteki hiroba(camp ground)】
Beware of bear, camp is not allowed. (June 2015)
You can camp at BBQ plaza and dai-ichi log-house.

Tent site



Toilet




Tap water




BBQ site




Roof

【Dai-ichi log-house】
You need a reservation.
Clean up all the house and utilities, checked out by the stuff, turn the key back.

6 Log-house
*Reservation needed



Kitchen




Fire place




Toilet , Shower rooms




BBQ site

【Parking】
Available to Tenjikuzan Park designated parking are.
Also available to use college ground parking are for setting up the performance stages, workshops, flee market, booths, street shops and so on. (Permit needed from the operational committee)
【Other facilities】 You can walk freely in the parks.
・ You can walk freely in the parks
・ Forest of Genji
・ Green Open Ground
・ Woods Event Ground
・ Craft Ground
・ Forest of Pray
・ Skiing Area
・ Rhododendron Park
・ Multi Purpose Center For Young and Sports Ground
【Other Rules】

Fireworks are denied to play to prevent forest fires and considration for neighboring residents.
Musical equipments and speakers are not allowed to use after 21:00 or 9:00 pm light-out in the Tamokuteki hiroba(camp ground), College Ground and Gate Ball Arena. Please, be considerate not making big sounds for neighboring residents.
Classification waste dumping.
We cannot be responsible for any accidents, losses or thefts. Please, be alert by yourself.
We do not accept any gang member.(Anti-mob law)
We will report any of criminal activities to police such as serious drunkenness, fighting, drug usage, stealing, sexual misconducts.Report to our staff members for any trouble.
Respect the sacred Koyasan as national heritage.
Don'tdishonour the holy religion.Making a big trouble,you'll be kicked out of the place.
Let's keep the manners in mind and be considerate to each other so that everybody can enjoy.